FDNY Adds 22 Names to World Trade Center Illness Memorial
January 30, 2020 | Michael Barasch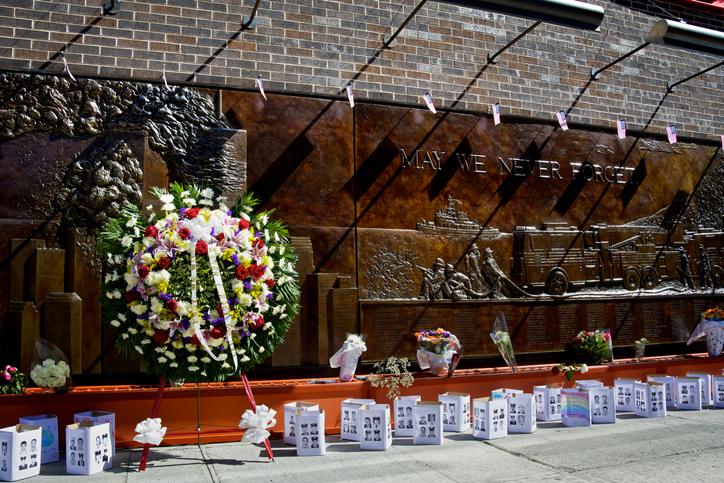 Although nearly two decades have passed and the Ground Zero site has been transformed, names are still being added to the FDNY World Trade Center Memorial Wall at the department's headquarters in Brooklyn. In September, this posthumous recognition was bestowed on 22 firefighters who died of illnesses related to 9/11 exposure. First responders who worked on the rescue and recovery effort continue to suffer and die from cancer and other fatal conditions connected to the dangerous substances that polluted Lower Manhattan in 2001 and 2002.
"In many ways, it remains inconceivable that now, 18 years later, we're still losing our loved ones because of the attacks of that day," FDNY Commissioner Daniel Nigro said at the ceremony. Nigro went on to discuss how frequently he hears about friends and former colleagues who have passed away after contracting conditions linked to the toxic air surrounding the World Trade Center site. These serious medical problems include:
Cancer — At least 68 types of cancer are associated with proximity to Ground Zero. Carcinogenic materials that thousands of people inhaled can affect the lungs, prostate, skin, head, neck, blood and other parts of the body. Higher rates of Non-Hodgkin's lymphoma, a type of blood cancer, have been detected in first responders.
Respiratory disorders —Elevated levels of pollutants such as alkaline dust near the World Trade Center site have been tied to asthma, rhinitis and sinusitis, especially in individuals who were already predisposed to those conditions. Studies show that people who experienced intense early exposure to the particles lost some lung function that did not return even after a decade.
Digestive conditions — People who were in the exposure zone in the days and months after the Twin Towers fell have suffered increased incidence of gastroesophageal reflux disease (GERD) and other digestive problems caused by dust that entered their bodies, combined with stress.
As a leader in achieving justice for victims of 9/11-related illnesses, Barasch & McGarry provides strong representation to firefighters who are suffering from these conditions and other occupational illnesses. We understand the connection between the heroic work FDNY personnel did on the Ground Zero pile and the names on the Memorial Wall. If you or someone you love has been afflicted with a physical ailment that might have been related to their service as a first responder or recovery worker, call us at [ln::phone] or contact us online for a free consultation.