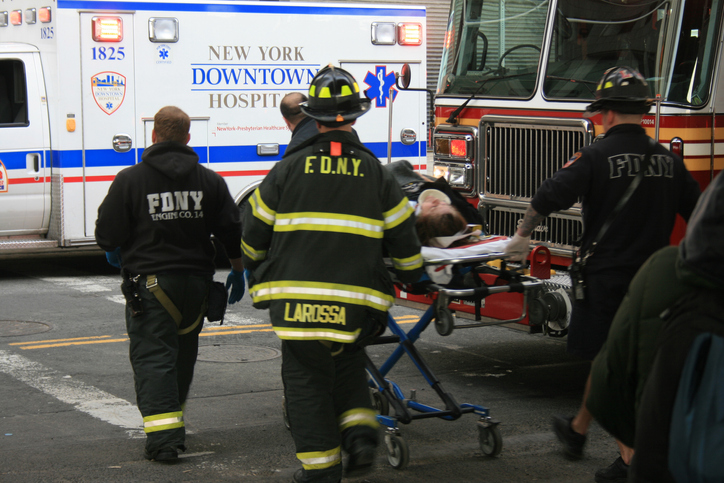 Many engine companies within the FDNY will be operating with fewer firefighters now that New York City has invoked a contract clause reducing crews from five to four people. Though the trucks can be manned by four firefighters, the affected engine companies used the fifth as a "wild card" to increase safety for both colleagues and potential victims. City officials and the leadership of the Uniformed Firefighters Association sharply disagree over the impact of the move.
There are presently 20 companies with five-man crews. Under the FDNY's labor contract, the fifth firefighter is authorized only if the department's medical leave time remains below a certain level. When that level was exceeded, the city moved to reduce the crews throughout the five boroughs. The UFA has protested the decision, claiming that the reduction heightens the risk of injuries to firefighters and the New Yorkers they serve for many reasons, including:
Traffic delays — For standard calls, two trucks report to the scene. Ideally, this means that eight firefighters respond immediately. However, traffic congestion in many parts of the city can delay one of the vehicles by several minutes. Having a fifth firefighter on the first truck to arrive can make a crucial difference.
Weather and other complications — Frozen pipes, mechanical difficulties and other types of mishaps frequently occur, requiring assistance beyond the engine crew's standard functions. Without the additional firefighter, dealing with an unexpected complication might be more treacherous, putting everyone on the crew at risk.
Increased calls — Five-man crews are particularly important now because the number of runs by engine companies has broken records for five years in a row, according to UFA president Gerard Fitzgerald. New York City counters this assertion by claiming that the number of serious fires is at a 30-year low.
Despite the controversy, city officials seem committed to ending five-man crews within those 20 engine companies, at least until the next contract negotiation. It remains to be seen if the change will increase the incidence of firefighter injuries within these units.
If you are an FDNY firefighter and have been hurt in the line of duty, it's important to retain an attorney who understands the underlying causes of job injuries. Barasch & McGarry has achieved substantial results for firefighters and other New York City first responders at trial and in settlement negotiations.  To schedule a free consultation with one of our experienced injury attorneys, call us at [ln::phone] or contact us online.