FDNY WTC Health Program Issues 15-Year Health Impact Assessment
July 30, 2017 | Michael Barasch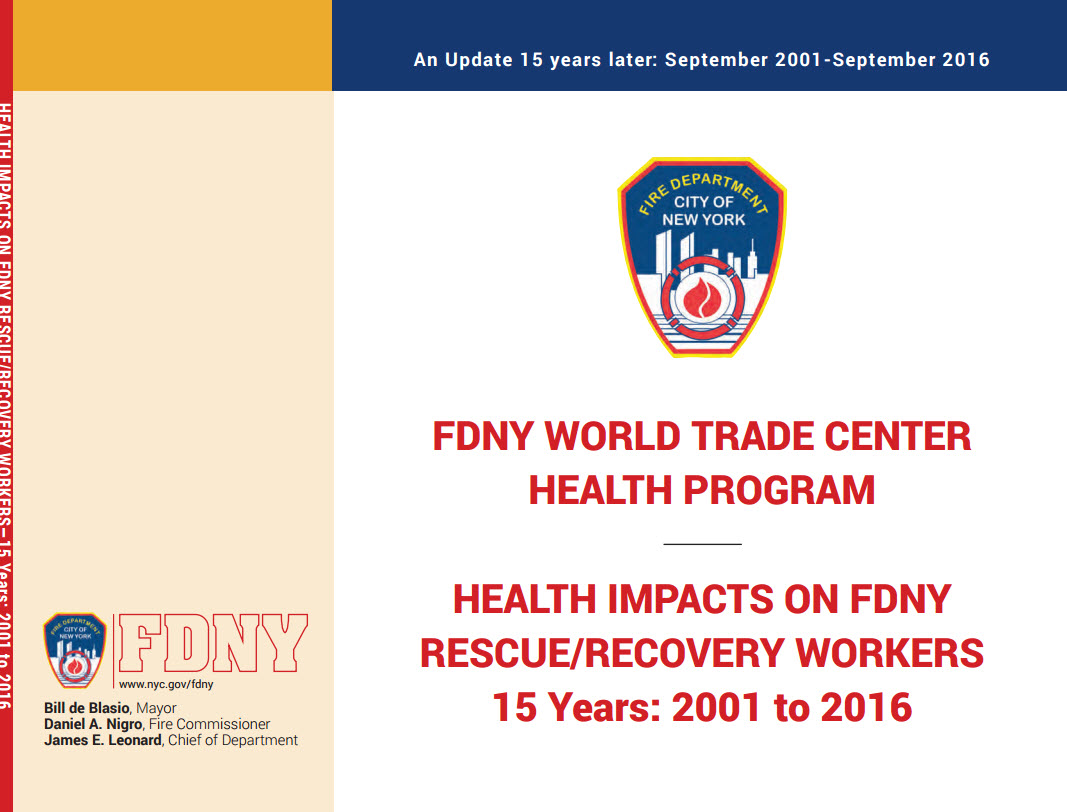 Recently the FDNY World Trade Center Health Program, which provides critical medical monitoring and treatment for firefighters who responded to the 9/11 terrorist attacks, issued a report on health impacts on FDNY rescue and recovery workers over the last 15 years, from 2001 to 2016. The report "confirms that the WTC exposure was unique, its effects far reaching and widespread and that the FDNY WTC Health Program is providing the needed health care services." The report asserts that the passage of time and the program's services have "allowed physical and mental health problems to diminish in severity and, for some, to resolve entirely." However, many responders face life-threatening diseases, like cancer, or suffer with illnesses so severe that their daily lives are adversely affected.
The report cites various health issues present throughout FDNY's workforce:
Diminished lung function — Numerous respiratory symptoms impair firefighters' ability to function at work or in their personal lives.
Mental health issues — PTSD, depression, anxiety and substance abuse cause serious problems for too many responders, at work and at home. The FDNY Counseling Services Unit provides free counseling and psychiatric consultations to firefighters.
Cancer — Cancers have long latency periods, so new cases continue to develop. But the program's surveillance services can lead to early intervention and beneficial treatment for many.
Newly emerging diseases — The program continues to discern connections between 9/11 rescue and recovery work and rheumatologic conditions and other autoimmune diseases. The program's officials are working to have the federal WTC Health Program administrator formally add these emerging diseases to the list of recognized conditions, just as they added mental health and aerodigestive diseases to the program in 2006, and cancers in 2012.
As of July 2016, the FDNY WTC Health Program had served 15,247 active and retired FDNY rescue and recovery workers. The report urges all program members to remain active and to have regular assessments to identify problems and take advantage of available diagnostic procedures such as CT scans, MRIs, endoscopies, colonoscopies, and ultrasounds, among others. The program also offers "WTC-related medications (respiratory, sinus, GERD, mental health and now cancer chemotherapy), cancer radiation therapy and, when necessary, WTC-related surgery at no cost."
One initiative the report emphasized was "Tobacco-Free with FDNY," a smoking-cessation program. Although only a small percentage of program members smoke, those who do face an increased risk of developing cardiopulmonary diseases and cancer and a related reduction in the degree of recovery from WTC-related declines in lung function.
As advocates for injured firefighters, we urge 9/11 responders in the FDNY to register with the WTC Health Program so they can take advantage of free health screenings. We also urge them to seek other Zadroga Act benefits they might be eligible for.
Barasch & McGarry represents injured firefighters, police, EMTs and civilians in a variety of personal injury cases. Call us today at [ln::phone] or contact us online to schedule a free consultation.