Giving Back to the FDNY: Firefighter with Cancer makes Anonymous $200K donation to Charity
October 5, 2017 | Michael Barasch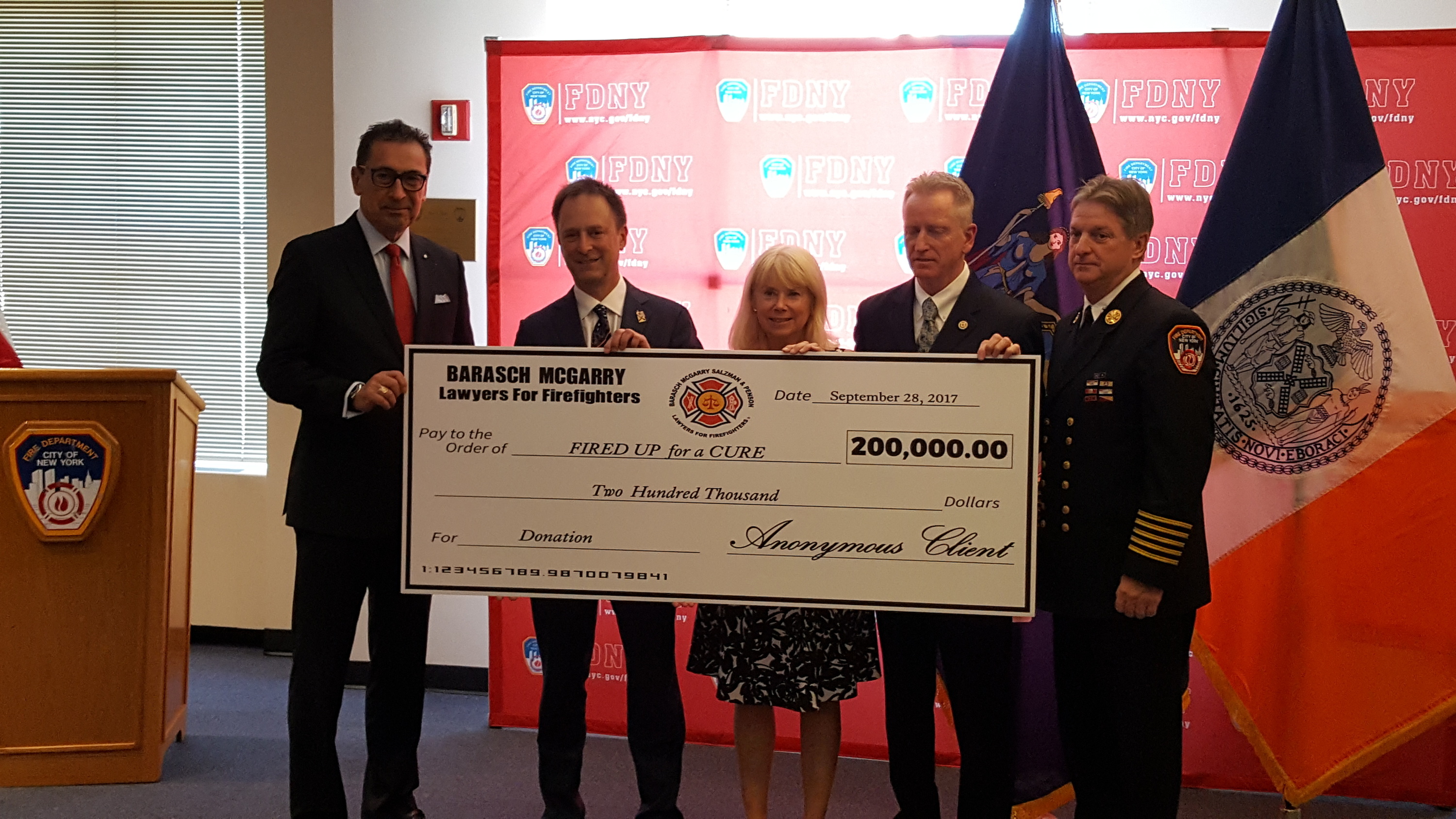 Mike Barasch and Ret. Deputy Chief Richard Alles (now Director of 9/11 Community Affairs at Barasch & McGarry) present anonymous client's donation to Commissioner Daniel Nigro, Dr. Kerry Kelly and Chief James Leonard
One of our firefighter clients was recently given an award from the Victim Compensation Fund for his multiple WTC-linked cancers. Thankfully, he is in remission and financially secure. He told our law firm that because he feels so blessed, he wanted to help others in the 9/11 community who might not be so fortunate. He asked us to recommend an organization that helps other sick responders. We suggested that he make a donation to the FDNY Foundation's "Fired Up for a Cure".
We were shocked when he told us that he had decided to donate $200,000 of his award to "Fired Up for a Cure". The donation had one just one condition: he insisted on it being anonymous. He wrote "I do not wish any public recognition or notoriety for this donation."
Last month, we presented a check in the amount of $200,000 to FDNY Commissioner Daniel Nigro, Chief Medical Officer Kerry Kelly and Chief of Dept. James Leonard. "Fired Up for a Cure" raises money for the FDNY Fire Family Transport Foundation, The American Cancer Society (Team FDNY Relay Responders), and the FDNY Foundation. The organization's mission is far reaching. It works to ensure that members of the FDNY take advantage of health programs that can lead to early detection of disease, and it gives much-needed support to people who are living with cancer and those who are caring for someone with cancer. It seeks to raise awareness, to help cancer patients recover, and ultimately to find a cure.
We are proud to have played a small role in directing this incredible donation to such a worthwhile cause.
[video_schema id='7386′]