Innovative Firefighter Hoods Could Help Protect Against Cancer
January 10, 2019 | Michael Barasch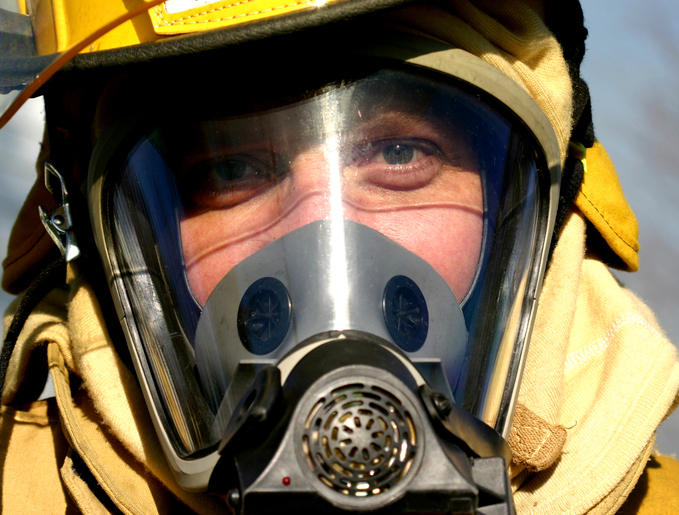 Firefighters face danger every time they answer a call, and while their gear provides certain protections, exposed areas of skin remain at risk. Cancer-causing particulates from smoke and soot can enter the uncovered areas of a firefighter's nose, mouth, eyes, or pores. That's why the socklike garments known as hoods, which cover the exposed skin from helmet to coat, have become an essential item of firefighting equipment. An FDNY study found hoods "dramatically improved (thermal) protection" and "strongly recommend[ed] the use of modern thermal protective hoods." There has been resistance to using hoods from critics who fear these garments can create added risk by limiting a firefighter's peripheral vision. But such criticism has been marginalized as additional research seems to indicate hoods could reduce the risk of cancer.
According to a recent article on the FireRescue1 blog, research sponsored by the International Association of Fire Fighters that was conducted by the National Institute for Occupational Safety and Health found that hoods important provide thermal protection for a firefighter's head, face and neck and guarded against the accumulation of "potentially carcinogen-carrying soot and other particles."
The National Fire Protection Association is on record differentiating between basic protective hoods and "particulate-blocking hoods." The latter type includes an innovative layer specifically designed as a barrier to block particulates.
As FireRescue1 explains, the demand for hoods from individual firefighters and departments has spurred manufacturers to "improve the design and materials for hoods, improving their effectiveness in particulate and thermal protection." There are now various styles with a variety of "comfort, wearability, durability, washability and cost."
But, as the blog points out, the research continues: "North Carolina State University's Textile Protection and Comfort Center has received funding from the Assistance to Firefighter Grants program to improve our understanding of the effects of particulate-blocking materials on the other performance attributes of firefighter protective hoods." This goal of this is to "contribute to both the short-term effectiveness and long-term safety of firefighters."
At Barasch & McGarry, we're invested in helping injured firefighters, but we're also a leading law firm helping victims of 9/11. In that part of our practice, we have seen the horrors of cancer caused by particulates released in the smoke, ash and dust of Ground Zero. Therefore, we've gained a greater understanding of what is in the smoke firefighters face when they run into a burning building, and we want to see New York's bravest protected against the harm that repeated exposure can cause. We are gratified to see that a piece of equipment that was once thought to be optional and disposable is now becoming increasingly used to protect the long-term health of firefighters.
Barasch & McGarry represents injured firefighters, police, EMTs and civilians in a variety of personal injury cases. Call us today at [ln::phone] or contact us online to schedule a free consultation.