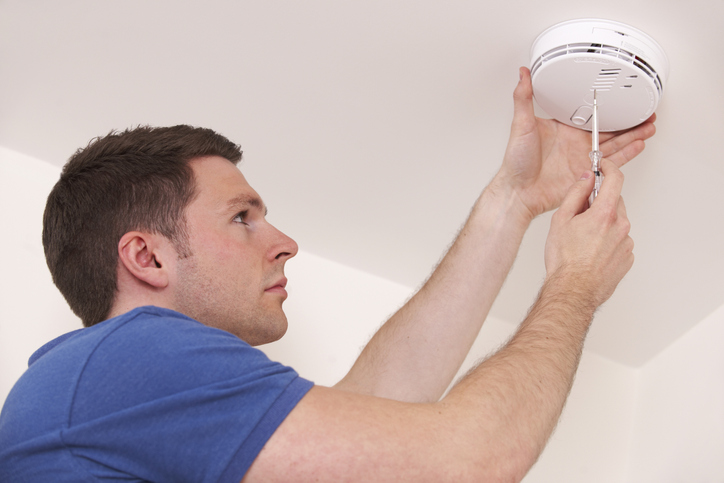 Residential property owners looking to sell their homes and landlords must make sure that their smoke detection systems comply with a new state law that takes effect April 1, 2019. Smoke alarms now must run either on 10-year sealed batteries or be hardwired to the home. This measure was actually passed in 2015, but New York State delayed implementation to give the public and smoke detector companies time to adjust.
Section 399-ccc of the New York General Business Law has been revised to require that only upgraded smoke detectors are sold within the state. Even if you're not selling your home, it's a good idea to switch to a new model that can prevent tragedies caused by:
Failure to replace dead batteries — We've all heard advice to change smoke detector batteries twice a year when the clocks change. Unfortunately, many people don't, putting themselves, families, neighbors and firefighters in serious jeopardy. By using lithium batteries that last for 10 years, lives won't depend on whether someone kept up with their responsibility to replace batteries in a timely manner.
Borrowed batteries that aren't returned — Nine-volt batteries that typically power smoke alarms can also run a wide variety of other devices. Even when someone knows better, it can be very tempting to borrow a smoke detector's battery in order to meet a pressing need. A fire that breaks out before the battery is returned might be catastrophic. Sealed or hardwired detectors don't run on removable batteries.
Batteries removed during cooking or other non-fire situations — Hearing the smoke alarm blast while cooking can be jarring and most people remedy the problem by taking out the battery. Upgraded smoke alarms are designed to distinguish between cooking smoke and actual emergencies.
This new legislation is designed to prevent needless injuries and deaths, but no precaution can completely eliminate the serious risk that firefighters face on every call. Experts recommend that these alarms also be tested twice per year.
No matter what prevention and detector systems are in place, New York fire fighters face a significant risk of injury on every call. Whether the particular harm results from smoke inhalation, defective equipment, a vehicle collision or some other cause, Barasch & McGarry knows how to maximize compensation for firefighters in personal injury and disability matters. For a free consultation with an accomplished attorney, call us at [ln::phone] or contact us online.