NY State Lawmakers Mull Giving EMTs the Same Killed-in-Line-of-Duty Benefits as Cops, Firefighters
June 30, 2017 | Michael Barasch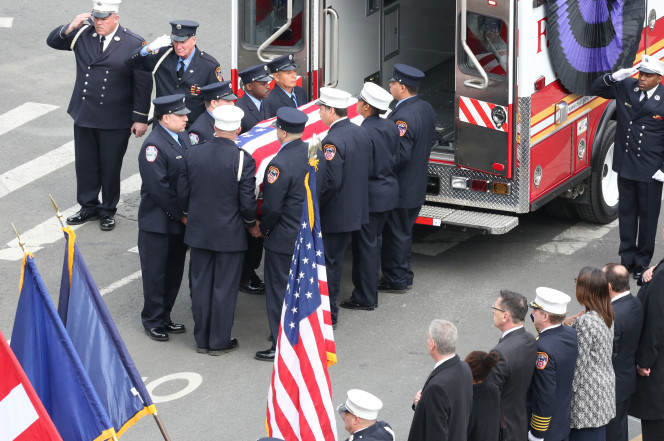 The New York Post recently reported that two state lawmakers, Senator Marty Golden of Queens and Assemblyman Peter Abbate, Jr. of Brooklyn, are sponsoring legislation that would offer the families of EMTs killed in the line of duty the same death benefits as cops and firefighters. The goal is to address the disparity in posthumous promotions that police officers and firefighters generally receive, but slain EMTs do not.
The most recent example cited by the Post involves FDNY veteran William Tolley, who died on April 20 after a fall while fighting a Queens fire. Just days later, Fire Commissioner Daniel Nigro promoted Tolley posthumously to the Special Operations Command. By contrast, EMS technician Yadira Arroyo, run down by an injured criminal suspect who stole her ambulance, received no such promotion.  The 44-year-old mother of five was a 14-year veteran of the FDNY. At Arroyo's funeral, according to another Post article, "Fire Commissioner Daniel Nigro reassured [her] sons that they will not be forgotten by the FDNY family," and referred to Arroyo as a "role model" for the department. However, the current law does not allow Commissioner Nigro to pay Arroyo the same honor as Tolley.
The city's EMTs have been fighting for greater respect for decades, going back to the 1980s when then-mayor Edward I. Koch famously commended their work before declaring with obvious exasperation, "But they're not cops!" However, even Koch might have supported Golden and Abbate's bill, after a cursory look at the facts of Arroyo's death.
On March 15, Arroyo and her partner, Monique Williams, were responding to a call when a pedestrian flagged them down about a theft. As Arroyo got out of the ambulance, 25-year-old Jose Gonzalez allegedly jumped into it and struck and killed Arroyo.
Clearly, Yadira Arroyo died the death of a dedicated public servant whose job includes significant risk of injury and death. As attorneys for injured firefighters, police, and EMTs, we strongly support legislation that would acknowledge the bravery of the city's EMTs and provide additional benefits for their families when those workers make the ultimate sacrifice.
Barasch & McGarry represents injured firefighters, police, EMTs and civilians in a variety of personal injury cases. Call us today at [ln::phone] or contact us online to schedule a free consultation.