Semper Fidelis Meets New York's Bravest in Joint Field Training Exercise
August 30, 2016 | Michael Barasch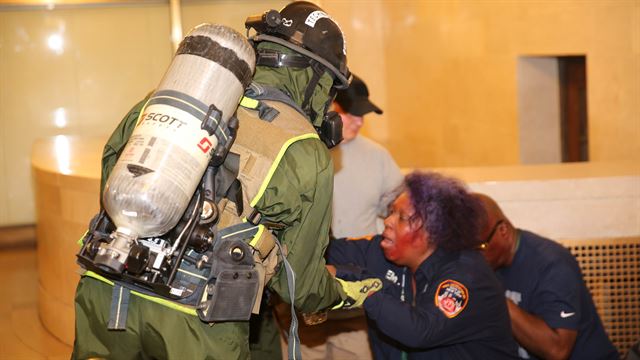 From June 20 to 23, Marines, sailors and FDNY firefighters trained side by side and shared search and rescue tactics in four days of training exercises at the FDNY Fire Academy on Randall's Island, culminating in a simulation drill at Grand Central Station. The joint venture allowed the men and women of the nation's largest fire department to compare notes with the Marine Corps' Chemical Biological Incident Response Force (CBIRF).
According to the Marines website, "CBIRF is an active-duty Marine Corps unit that, when directed, forward-deploys and/or responds with minimal warning to a chemical, biological, radiological, nuclear or high-yield explosive threat." Since CBIRF often has to assist local, state, or federal agencies at the site of an event, it makes sense to train alongside firefighters whose duties include responding to toxic spills, contamination threats and terrorist attacks. Like CBIRF, FDNY could be charged with "providing capabilities for command and control; agent detection and identification; search, rescue, and decontamination; and emergency medical care for contaminated personnel."
Highlights of the training included:
Ascending and descending ropes to reach victims
Proper techniques for using hydraulic extraction tools
Proper techniques for using breaching tools, such as torches, chain-saws, and power drills
Assessing, attending, decontaminating and transporting victims
The simulation at Grand Central Station presented a scenario where an explosion had strewn contamination across two train tracks. Participants had to mobilize, prepare a plan of operation and send respondents into the contaminated "hot zone." They were also met with numerous obstacles in their attempt to extract and evacuate victims.
Barasch & McGarry applauds these proactive measures to give our city firefighters a training experience that is not only rare for municipal fire departments, but is also unique for personnel within the U.S. Department of Defense. It is also one of the many reasons that the largest professional fire department in the country is also its finest.
Barasch & McGarry represents injured firefighters, police, EMTs and civilians throughout New York in a variety of personal injury scenarios. Call us today at [ln::phone] or contact us online to schedule a free consultation.