We Remember Bobby Beddia and Joseph Graffagnino Who Died in the Deutsche Bank Fire 10 Years Ago Today
August 18, 2017 | Michael Barasch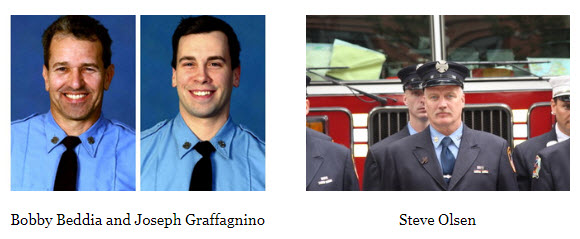 Today, August 18, 2017, marks the 10th Anniversary of the Deutsche Bank fire that tragically took the lives of our client, firefighter Bobby Beddia and also firefighter Joseph Graffagnino. We take this time to remember both heroes, along with the hundred other members of the FDNY who were injured in this blaze that started when a construction worker carelessly discarded a cigarette.
Lives were lost, firefighters' careers were cut short and the corporations responsible have yet to be held fully accountable for their actions. It is outrageous that not all of the injured firefighters have received the justice that they deserve.
The Deutsche Bank building had to be razed as a result of damages caused by the falling World Trade Centers. A multi-billion dollar international construction company named Bovis Lend Lease was in charge of the demolition. After the tragic deaths, criminal charges were brought against Bovis. In a deal to avoid criminal prosecution, Bovis publically acknowledged its responsibility for the firefighters' deaths, in that it allowed a 42 foot section of standpipe to remain missing for months leading up to the fatal fire. Now that Bovis is out of the District Attorney's sights, Bovis is denying everything it once admitted in effort to avoid paying proper compensation to all of the firefighters injured at the fire. Bovis profited from taking shortcuts, and it is ultimately New York City firefighters who paid the price. That is not acceptable. Our firm will continue to fight for justice on behalf of our clients and the FDNY.
Sara Director, one of the firm's senior associates, was interviewed by the New York Daily News about firefighter Steve Olson's pending lawsuit. Click here to see the interview.